Acute lumbar spine disc bulge

Disc herniation / prolapse

Sciatica pain from a disc injury

Lumbar spine discectomy surgery

Chronic degenerative disc bulges

Disc-related low back pain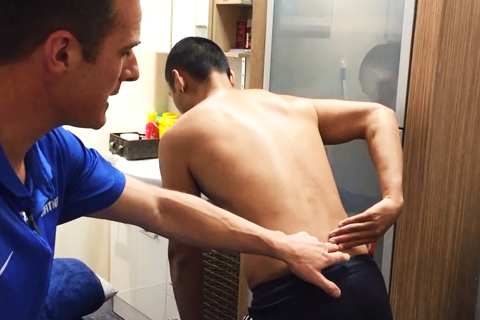 This intensive 24 week rehab program is designed to help as many people out there as possible who suffer from an acute lumbar disc bulge and the associated referred pain and symptoms, as well as patients with sciatica pain, chronic disc degeneration and post-operative discectomy. If you have a disc bulge, pain and/or sciatica - you need a set, structured and intensive rehab program of rehab exercises, stretches to help you recover, rehabilitate, and strengthen your back and core. A disc bulge or herniation can be mild, all the way to very severe and everyone is different. In our experience, people struggle if they don't get onto it fast, and don't get the right advice, knowledge, exercises or stretches to do.
A lumbar disc bulge is hands down the most common injury and pain presentation in a Physiotherapist's clinic. It is also one of the longest and hardest injury to overcome, so people simply need quality daily exercise homework to do in order to get better, not just the visits to the Physio for hands-on treatment. This program helps you achieve that with a series of clinically proven, tried and tested exercises, along with the highest quality expert advice and education.
Disc bulges, herniations, sciatica, chronic degenerative wear and tear, and post-operative discectomy patients all need mobility and rehab exercises in order to recover. Back pain is not nice, and when it's from a lumbar disc it can sometimes be really bad and effect people physically, mentally and emotionally. It is imperative that you follow a strict regime of progressive week-to-week exercises and stretches in order to reduce your pain, centralise your symptoms and start the strengthening process. It's also very important that you get better as fast as possible, to prevent ongoing and worsening pain, development of chronic pain and all the complications in life that can occur from it. This program starts with mobility and pain reduction stretches coupled with low level core activation exercises. All the way through there are weekly educational videos with advice on time-frames, exercise instruction, demonstration of patient presentations, what not to do and what TO do. Daily lifestyle, modifications to your movement and normal routines are addressed, with education to help you through day to day life whilst you get better. As you improve and the weeks go on, the program shifts focus to back and core strengthening, teaching you how to squat and lift again, with advice on restrictions as well as helping you return to your normal exercise and lifestyle as much as you can.
This rehabilitation program has been designed by Tim Keeley - Principal Physiotherapist of Physio Fitness. Tim has treated thousands of patients with lumbar disc bulges and has also had first hand experience with his wife suffering two disc bulges and one herniated (ruptured) disc with sciatica. So he knows all too well what you're going through and the best and most effective way to guide you though the rehab journey. He knows the right sequence of exercises, the level of progression where and when, how long it takes, the effort required and the determination needed to get through each week. In this 24 week program you will be shown all the exercises and mobility work that is needed each week, with detailed instructions, videos of the exercises and weekly videos of patients just like you, who are going through the same stage each week. The videos help you keep motivated and on track through your rehabilitation journey, as well as giving you great tips and inspiration during each stage.