HOW TO USE THIS SITE + FAQS
SAVE TO HOME SCREEN AS AN APP ICON


To save this site on your device as an app icon for easy access, simply tap the 'share' icon in your browser and then select 'add to home screen'. This will create a icon of the site onto your home screen ready for easy access whenever to need it.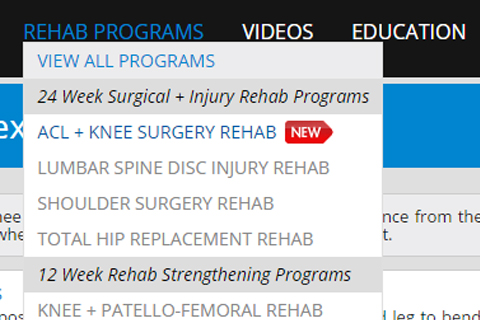 Go the the main menu under Programs and then "VIEW ALL PROGRAMS" to see what is current released and what is coming soon. You can then get a taste test of the new rehab programs by viewing the "PREVIEW WEEKS". Each program has preview week(s) for you to check out the layout and type of content in the programs. Simply click on the preview button on the specific program page to go to that section.
You can also
SEARCH FOR PROGRAMS
and view the free weeks in search and discover section of the website.
TYPES OF VIDEOS
There FOUR type of videos that you will see when you are searching for content and inside the rehab programs.
INSTRUCTION VIDEOS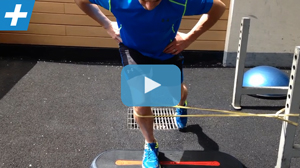 The exercise instruction videos are a muted videos that run for 20-30secs and loops to show you visually exactly how to do the exercise. Most exercises in the site have these videos.
EDUCATION VIDEOS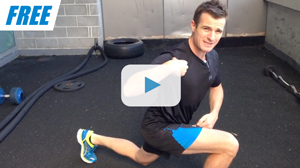 The extended education videos are a longer videos that have, physio education, real patients, with detailed tips and techniques to guide you through specific exercises as well as educate on injuries, treatment and recovery progress. These can be found inside the exercises as well as the programs. You can search for
FREE EXTENDED EDUCATION VIDEOS HERE
WEEKLY VIDEOS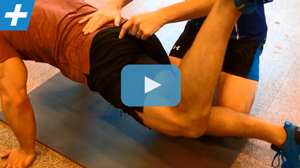 The weekly videos are inside the rehab programs and show real patient's progress in the same stage of the injury in that week, detailing how they are doing the exercises and their rehab progress. There are great inspirational and motivation videos to help you move through week to week.
SEMINAR VIDEOS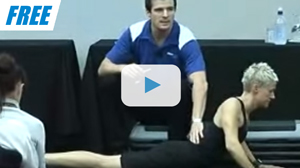 There are online seminars that are up to 90mins in duration, based on injury prevention and rehabilitation and are perfect for those wanting quality information in a seminar format. You can search for
FREE ONLINE SEMINAR VIDEOS HERE
WHAT DO THE SYMBOLS MEAN?

All the exercises, videos and program weeks where you see this symbol in a WHITE BOX in the top left hand corner are FREE to view without purchasing any programs or subscriptions. The FREE logo appears throughout the site. You can either find the FREE content by looking at the video library, exercise library or program sections and clicking on the items that show the FREE logo. If you wish to search for ONLY free content then head to the discover + search free content section.
SEARCH FOR FREE CONTENT

The BLUE box plus symbol shows which content is only available once a program or subscription is purchased. You won't be able to view this content until you either purchase a program, sign up to one of the subscription options or sign in (if you have already purchased). When searching free content in the discover section you may find exercises and videos that are secured with the plus symbol. If you have purchased a program or subscription you will be able to view all exercises and videos across the site that have the plus symbol. To view a specific program week however, you will need to have purchased that entire specific program.

When you see a rehab or mobility exercise in the exercise library that is watermarked, this also means it is only available once a program or subscription is purchased. The blue watermark will disappear once you have logged in (if you have already purchased). When a video icon is in the top right of the exercise, it means there is an INSTRUCTION VIDEO to view for this exercise when you click/tap on the exercise image.
EXERCISE PROGRESSION LEVELS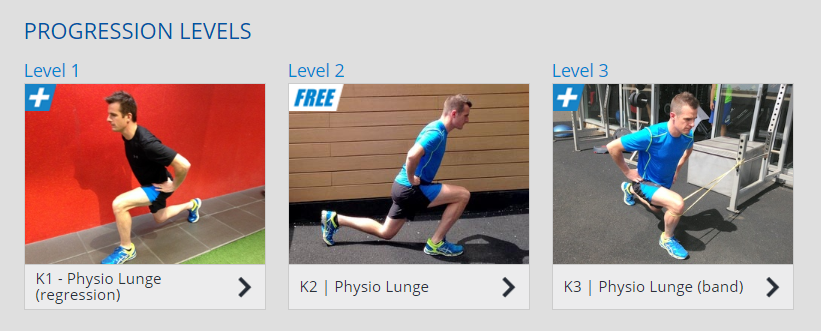 Most exercises that can be progressed (or regressed) have "Progression Levels". This is where you can see how each particular exercise or stretch can be made more difficult or less difficult, by altering the exercise slightly with added resistance (such as bands), adding weight, making the surface more unstable (using a BOSU) or simply doing it with one arm or one leg.
It is strongly advised that you don't attempt any progression of an exercise if you are not capable of doing the current level, and if you find the current level too difficult you can choose the level below.